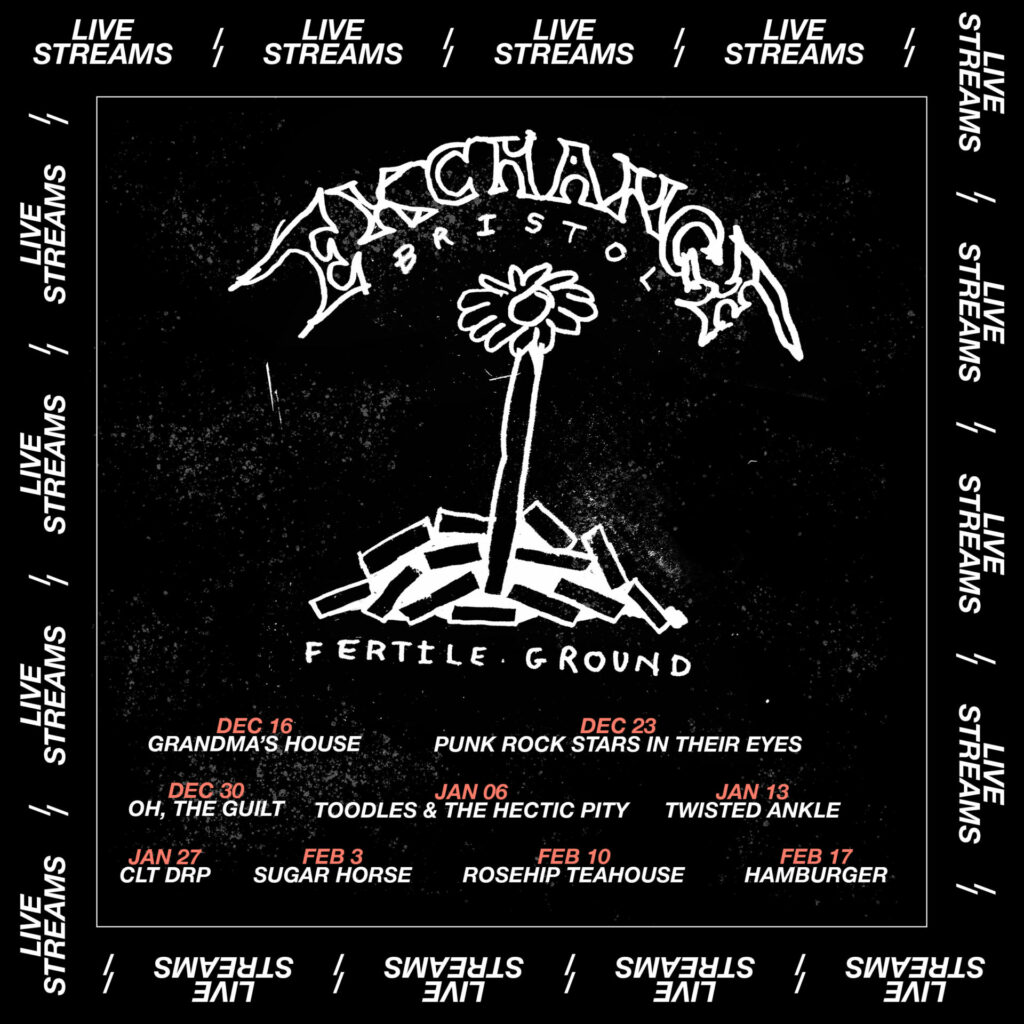 In July 2020 we received funding the Arts Council that allowed us to purchase the equipment and train our staff to run streamed events. Fertile Ground was a series of live streamed, multi cam events filmed in the venue, with a skeleton technical team. he series can all be viewed here
The series enabled us to give work to bands, creatives (to do decor and promotion) and skill up our staff to learn how to use a range of PTZ cameras, and a remote recording set up.
Fertile Ground also enabled us to showcase our new PA and stage, even though the venue was shut due to lockdown.
The series featured a range of musical styles, from Exchange regulars such as Toodles and the Hectic Pity, through to electronica trio Jabu (part of Young Echo, who also put on a lot of events at Exchange). Sets were also done by Langkamer, Grandma's House and Oh, the Guilt among others. The biggest event in the series was the Arctangent Warm Up which featured a wide range of bands connected to the festival.
The technical team refined their recording skills during Fertile Ground, and we have continued to use these skills in our ongoing work to make the venue more accessible. We offer live streaming to performers, and our Exchange Online project has enabled us to try out different aspects of recording; from TV shows to podcasts! As well as our successful series of Gig Buddies fundraisers. These fundraisers also showed the potential to reach a much bigger crowd… our main room is 250 capacity, but the main benefit with Stewart Lee sold over 21,000 tickets thanks to Radiohead, Mogwai and Idles promoting it!
Fertile Ground meant that Exchange continued to have exposure despite being shut, and this was vital in maintaining links with our 500 members, and the wider Exchange community. Whilst many venues were forced to close down due to the pandemic, projects such as Fertile Ground meant that the profile and reputation of Exchange as a venue that pushes accessibility and sustainability has continued. The technical equipment and skills we invested in with Fertile Ground mean that we can continue to showcase cutting edge music despite the ongoing uncertainties some people feel about attending a venue in person.