Prizes generously donated from Radiohead, Fender, IDLES and many more!
100% of proceeds from the raffle go to Gig Buddies Bristol and Gig Buddies Cymru, befriending projects that enable and empower people with learning disabilities and/or autistic people to enjoy all the great events going on in Bristol and Wales by pairing them up with new friends with similar interests to attend events with.
Tickets: http://hdfst.uk/E64312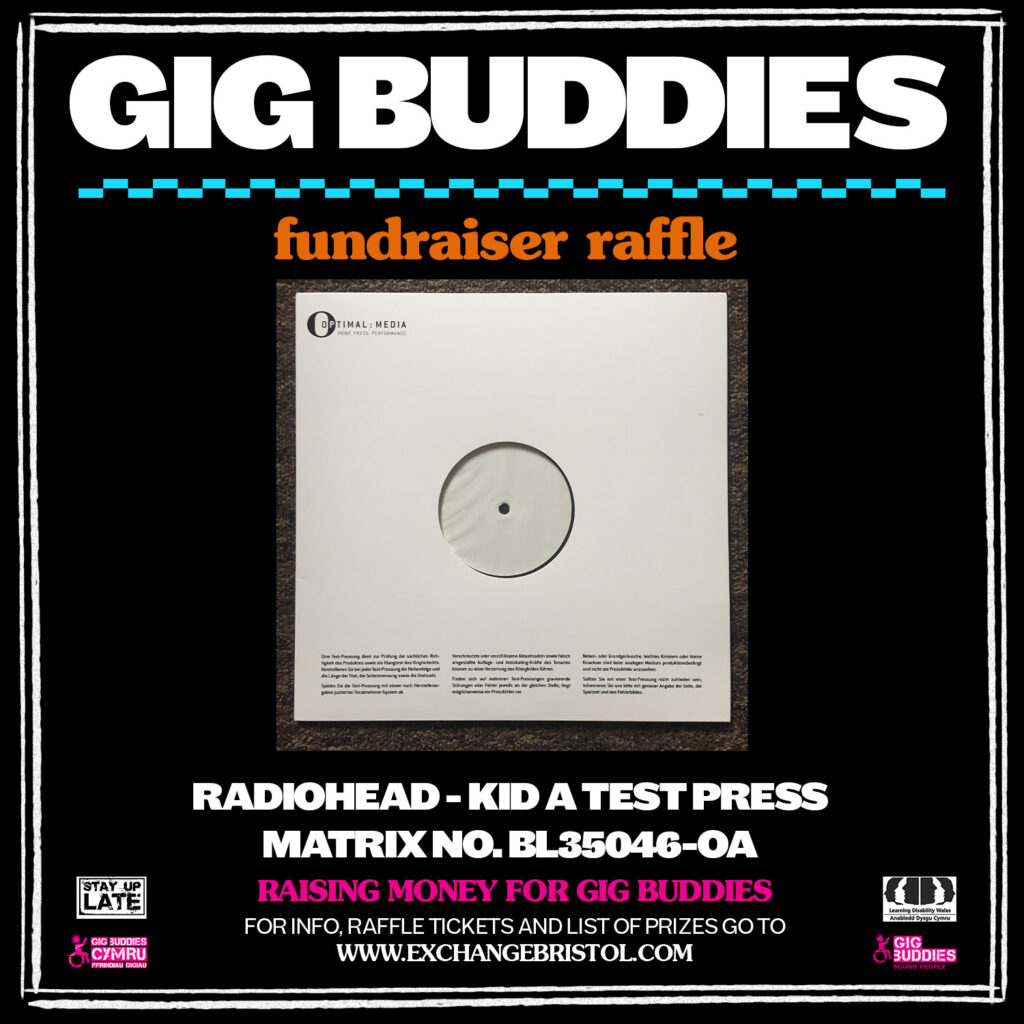 Full prize list:
Radiohead – Kid A test pressing
Fender Squire Stratocaster signed by all Gig Buddies live stream performers
IDLES – signed Ultra Mono test pressing + artwork
Slowdive – guitar pedal used by Slowdive
Mogwai – signed Bardo split, Rave Tapes boxed set + As The Love Continues boxed set
Frank Turner – signed 'Be More Kind' test pressing
Florence and The Machine – signed book + record
The National – signed photobook + accompanying record
Fontaines DC – signed inlay photo
The Staves – signed record
The Lovely Eggs – signed 'I Am Moron' record + CD
Young Knives – orginal canvas by House Of Lords + signed record
Sports Team – tee shirt x2
Iain Sellar – Free tattoo + artwork print
Laura Marling – signed inlay photo
Metz – signed vinyl bundle
Orlando Weeks – Original one off artwork
Big Jeff – Print
Lee Kiernan (IDLES) – Print
Sickboy – original artwork on IDLES gig posters
Exchange – Five 2x ticket bundles to any show
2x tickets to Ritual Union 26/03/22
2x tickets to either Katy J Pearson show at The Louisiana 25/08/21 or 26/08/21
2x tickets to IDLES at Cardiff Arena
2x tickets to the sold out Paul Weller at Bath Forum show 17/11/21
BEAK> – Signed merch bundle
JOHN – God Speed in The National Limit record + signed tour poster
Traams – signed Grin record + test pressing of 4 Songs
TV Priest – Signed Uppers record
Environmental Studies Bundle ft. Julian Cope, John Paul + more
Melvins – Limited edition signed screenprint
Friendly Records – £30 store voucher + tee
Life – Signed merch bundle
Billy Nomates – Signed s/t RSD vinyl
Supergrass – Strange Ones boxed set
Mclusky signed setlists from Gig Buddies show
2x tickets to Ceremony Festival at Bedford Esquires
Fender telecaster guitar
Sharon Van Etten – signed merch bundle
Thee Oh Sees – 2x packs of 4x signed records
Young Fathers – ltd edition blue vinyl of cocoa suagr + tote bag
Declen Mckenna – 2x tickets to Brixton show 18/09/21
Klämp – Signed record + 5 t-shirts
Plus more to be announced soon!