03/10/21
Today is our second volunteer training day! And even more excitingly – next weekend we have our first Buddy meetings! It's really nice seeing everything finally coming togheter.
25/08/21
We have just completed our first volunteer training day! We're looking forward to being able to match up Gig Buddies and seeing them attend shows!
09/07/21
All the raffle and auction prizes have now been posted! We were not very popular at the post office!
Volunteer training is progressing well and we're hoping to have our first group of volunteers fully trained by the end of August!
23/06/21
We hope everyone enjoyed the live stream fundraiser and prize show! We're hugely thankful to our patron Dev for organising the event and to all the bands and comedians who performed!
You can watch back all the bands' sets and more here: https://www.youtube.com/playlist?list=PLyY2LQXDISyeSBxkiU93OO6ZEME8anUFy
07/06/21
We sent out the first of the volunteer application forms today, if you have already registered your interest in volunteering with us then check your inbox!
If not, there is still time! Send us an email at info@gigbuddiesbristol.com to apply!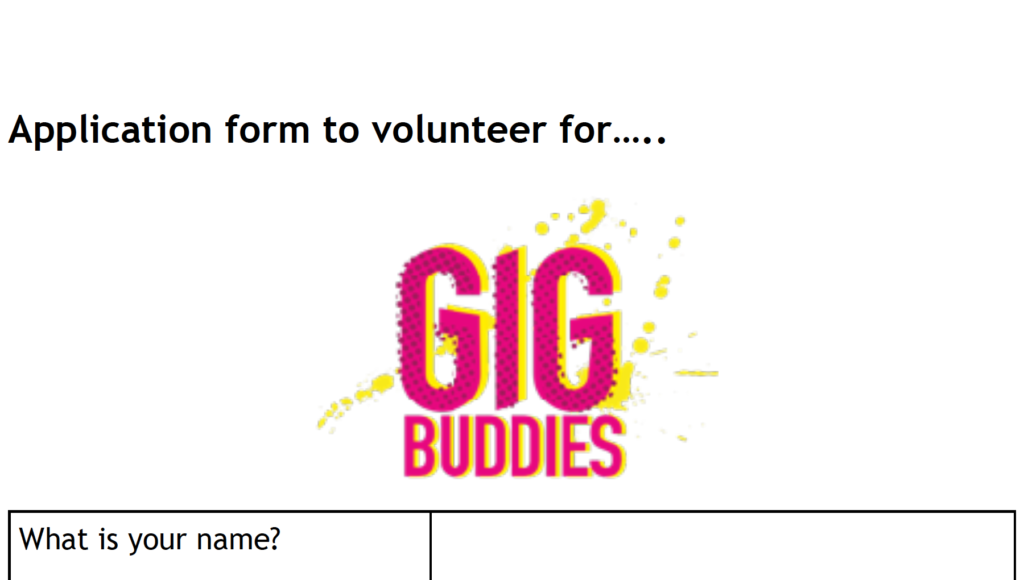 -Iwan
Gig Buddies Bristol project co-ordinator
21/05/21
Hello world! It's a huge pleasure to finally announce Gig Buddies Bristol.
We want to make sure that everything we do and all our decisions are transparent and clear. We'll put all our news and developments in this blog and would love to hear any feedback you have.
Loads of exciting stuff coming up but for now, if you'd like a Gig Buddy, if you'd like to volunteer for us, or if you have any questions or suggestions, please email info@gigbuddiesbristol.com.
– Iwan
Gig Buddies Bristol project co-ordinator