Exchange has become the first grassroots music venue in the United Kingdom to achieve gold on the Attitude Is Everything (AIE) Live Events Access Charter.

AIE is a disability-led charity with 20 years of experience supporting non-profit and commercial organisations to be accessible and inclusive for neurodivergent, Deaf and Disabled People.
The AIE Charter is a bespoke service offered exclusively to the live music industry. Over 210 venues and festivals have signed up to the Charter, adopting it as an industry standard for accessibility at live music events. Many small venues have bronze and silver levels, and many festivals have achieved gold, but not venues of our size. AIE has made a useful map on their website to show this information.
"We are so pleased to be able to award the Exchange the Gold level on our Live Events Access Charter. This is the first grassroots venue to achieve this award on the newly updated Live Events Access Charter. The team at Exchange have really embraced the work that we do, pushing for the venue to be as accessible as possible. Not only have they worked with us on the Charter, but they have engaged with other areas of our work such as the Beyond the Music project, hosting gigs in partnership with us. We have also been in full support of their Go Gentle programme of events, showcasing relaxed performances in a grassroots venue setting. The Exchange have been a great example of what can be done at grassroots level, with limited time and money, but a lot of heart! Attitude is Everything are excited to have Exchange on the Charter at Gold, and look forward to supporting them towards attaining the Platinum level." Natalie South-Law, Charter Manager
Exchange has worked closely with AIE for several years. Thanks to financial support from both Arts Council England and our members who invested in our 2018 community share offer, we have been able to make structural adjustments to make the building more accessible. When we were Mystery Shopped last year as part of this process, we scored 9/10 for accessibility, and 10/10 for enjoyment.
In order to obtain the gold award, we have developed many aspects of the venue, including streaming and captioning packages, staff training, and engagement with artists, and promoters.
Covid-19, Brexit, and the rising cost of living mean challenging times for grassroots music venues. Despite these challenges, it's still possible to combine quality programming with accessibility. We also hope that through our projects such as Go Gentle (relaxed performances) and our partners at Gig Buddies Bristol, we can remove barriers people might face, such as isolation and feeling unconfident in crowded spaces.
As a Community Benefit Society, it is important to us that we programme diverse events, and also offer different forms of engagement for our community, for example, hybrid gigs, streamed shows and reduced capacity events.
"We are delighted to be given this award, and we hope it will encourage other venues to sign up to the charter. A lot can be achieved without significant investment, and Exchange is keen to support other venues with the AIE charter process." – Iwan Best, Exchange Director and Go Gentle Project Manager
The whole team at Exchange want to extend a massive THANK YOU to Em Sheppard and Iwan Best for their tireless work on this project. The commitment shown by both has been outstanding, and a true reflection of Exchange's values.
We will continue to work with AIE through their Just Ask campaign which works specifically with Deaf, Disabled and Neurodivergent promoters, and Beyond the Music, who shot their recent campaign film in the venue. We will also start to work towards the Platinum Charter next year!
If you have any queries please email em@exchangebristol.com. Or come into the venue and say hi! More information can also be found on our website.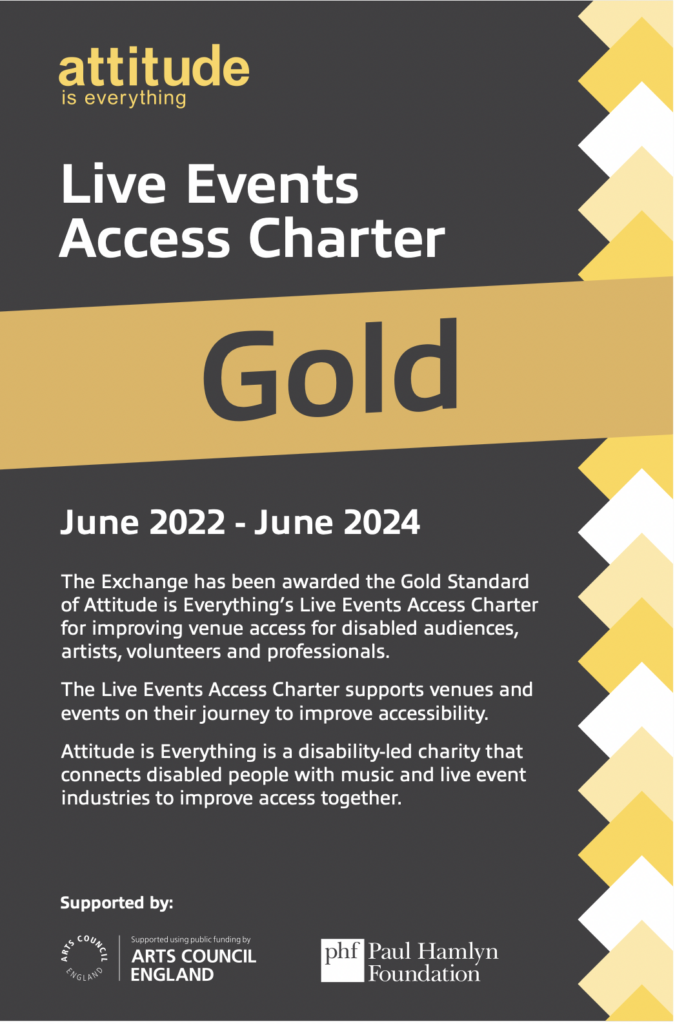 Links
http://attitudeiseverything.org.uk/the-charter-of-best-practice
http://attitudeiseverything.org.uk/professionals/beyond-the-music-mentors