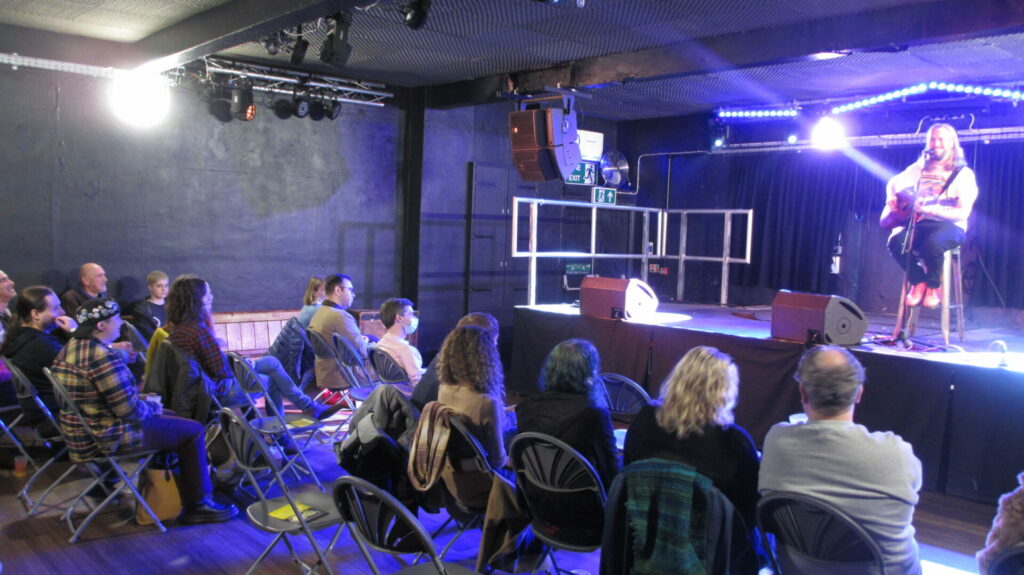 Thanks to funding from Arts Council England, we have been running our series of relaxed performances for a few months now.
Research done by one of our project partners, Attitude is Everything has shown, many people have been feeling apprehensive about returning to busy venues. Go Gentle shows have been a popular way for both audience and artists to connect and gain confidence.
Go Gentle has so far featured touring bands and local performers, acoustic and spoken word. The shows are cosy, with reduced capacity, and a variety of furniture, to make them inclusive to everyone, of any age.
What changes are made to a Relaxed Performance?
We make slight changes to the sound, lowering the volume and reducing any loud effects.
We slow down any flashing/strobe lighting effects.
The lights will always be on at a low level in the auditorium.
The show will have a slightly extended interval (break in the middle of the show), to allow for toilet visits.
People are encouraged to express themselves however they like. If you want to move around, or be noisy… you are welcome!
Lots of space so you can spread out or lie down if you choose.
Staff are on hand to help with whatever you need.
As part of Go Gentle we are also developing our use of captioning for streaming and video.
We will announce future shows soon! For more information on listings, equipment, or bookings, email iwan@exchangebristol.com